It is quite a challenge to find the best VPN for torrenting, as every VPN has different flaws. It might become painful to find a VPN that suits your requirement. Using a torrent for file sharing is the best way to share stuff online. However, you might be targeted for copyright infringement if you are not careful. Using a VPN is the easiest way to secure yourself online and also to continue using torrent normally. The problem is, if you choose a VPN which leaks your DNS requests or IP address, your identity is compromised. 
Third parties can quickly know who you are and what you are sharing online. These parties include media firms, copyright experts, law firms, or any related firm. You can easily be charged with a lawsuit for copyright infringement. While torrenting, you may face several issues because of slow connection speed. A VPN can remove any throttling that your ISP is doing and open the connection at its maximum capacity. In this guide, we will discuss what you need to look for in a good VPN for torrenting. We will provide you our list of recommended VPNs that will fulfill all your torrenting needs. 
What is torrenting and P2P File Sharing?
Torrenting is a technology which allows peer-to-peer file sharing. With the help of P2P, many users can connect and share their files for other users to download. All torrenting community shares and receives multiple websites based on what they are looking for. The users are not dependent on any single website to download their required file. For example, if you are looking for a particular file, either a game or software, you can directly download it from the source website. Multiple users are sharing the same kind of files. This way, the download speed becomes faster and smoother. In a way, users act as small servers, which allows for the network load to be lesser as the users sharing the file increase. 
We need to understand what Peer-to-Peer process, let's look into some of the terms that are essential to under the P2P process.
Peers: All users sharing files through torrents are called peers. These users are peers as long as they continue to share files on the network.
Seeders: When you download a file using a torrent while uploading files on the network, you are a seeder. To have good downloading speed, you need a file which has the highest number of seeders.
Leechers: Peers who are downloading the files from the network but stop the upload as soon as they download the file are called leechers. They don't want to help other people for downloading.
Indexers: Like Google, torrents also have search engines that users can access in order to find their required torrent files. Search engines provide options like the number of seeders and leechers on any torrent. These torrent search engines are called indexers.
Swarms: When peers upload or download the same torrent files, they are called swarms.
Trackers: Servers acting as a bridge between peers are called trackers. The required packets are direct one user to another, and they also help in finding several peers on a torrent file.
BitTorrent Client: In order to successfully download a torrent file, you need to use a torrent client such as uTorrent. These clients manage and compile the fragments from seeders and assemble them for users to easily download the torrents.
A P2P file sharing involves peers directly communicating with each other without any need for a centralized server. When you decide to download a file using P2P network, your client will show you all users uploading the file this means you will get a high number of seeders for the download. The number of seeders is important when using P2P as it indicates that more users are uploading the file and increasing the speed of download for other peers looking to download that specific file. A torrent client's job is to facilitate the transfer of files between peers and allow them to upload their files so everyone can benefit from it.
Why do you need a VPN for torrenting?
Downloading from torrents is basically legal, with the exception of a few countries like Russia and China. These countries have specifically banned using torrents. If you use a VPN to mask your IP address and your identity – you can use torrent. A VPN allows you to change your virtual location to any country you choose. For example, if you are in China, you know it is impossible to use torrents as there is a big risk of legal action against you. If you use a VPN for torrenting, your virtual location can be any other country, and you can continue to download using a torrent freely. However, you must be careful while using VPN for torrenting because your data and identity can be leaked if your VPN is not good. 
Many VPNs are now getting smarter and advanced in terms of keeping you safe from prying eyes. In order to learn more about VPNs and how they work, head over to "VPN for beginners" where you will find all the basic information you need regarding VPNs. Any good VPN service will provide you with multiple servers for you to choose from. These servers can have good or bad connection depending on your actual location. If you choose a server near your location, you will probably receive good connectivity. 
In terms of the legal aspect of torrents, you can download files using torrent as long as what you download isn't illegal. Torrenting is a blessing. However, it doesn't give anyone the right to use it for downloading illegal content. Any file having copyrights should not be downloaded. Media companies are getting stronger in monitoring the traffics of the torrent. They can collect many IP addresses from the torrent swarms. If the VPN you choose is lacking in the security aspect, your identity, IP address, and data will be leaked to third parties like your ISP. Furthermore, if your identity is leaked, you may receive notices for violating copyright laws and may be subject to legal actions. These violations may result in a big fine from the copyright holder demanding payment for damages.
Best VPNs for Torrenting (Table)
Here we provide you with the best VPN for torrenting. These VPNs have been tested by our experts to provide you with fast downloads anonymously. Here are our recommendations.
VPN Providers

Price ($)

Features

Provider's Website




$2.99 PER MONTH

Supports AES with 256 bit encryption.
Strong zero logs policy.
Allows access to 5000+ VPN servers.
VPN servers located in 59+ countries.
Provides unrestricted access to Netflix and other VoDs.
Allows users to connect up to 6 devices simultaneously.
Monthly plan, 1 year plan, 2 years plan and 3 years plan.
30 Days money back guarantee.


Visit Provider




$2.95 PER MONTH

AES 256 bit encryption.
No logs policy.
2000+ VPN servers.
180+ countries.
Dedicated streaming servers.
Unrestricted access to Netflix and other VoDs.
Up to 5 devices simultaneously.
Monthly, yearly and 2 years.
31 Days money back guarantee.


Visit Provider




$2.75 PER MONTH

5200+ VPN servers.
90 countries.
256 bit AES encryption.
Zero log policy.
Access Netflix and other VoDs.
Supports 7 simultaneously connections via multi login.
Offer free trial for iOS and Android.
1 month, 1 year and 2 years & 3 years plans.
45 Days money back guarantee.


Visit Provider




$1.75 PER MONTH

Windows, Mac, Android, iOS and Browser support.
No activity logging.
30+ server locations.
5 multiple logins with IP masking.
Traffic encryption.
Censorship bypass, unblocks Hulu, Netflix, BBC iPlayer.
Malware and tracking blocker.
30 days money back guarantee.


Visit Provider




$2.25 PER MONTH

390+ VPN servers.
55+ countries.
256 bit AES encryption.
Zero log policy.
Access Netflix and other VoDs.
Supports 5 simultaneously connections via multi login.
Package variety: 1 month, yearly and 2 years plans.
Monthly plan, 1 year plan and 2 years plan.
30 Days money back guarantee.


Visit Provider
What is a DMCA Notice?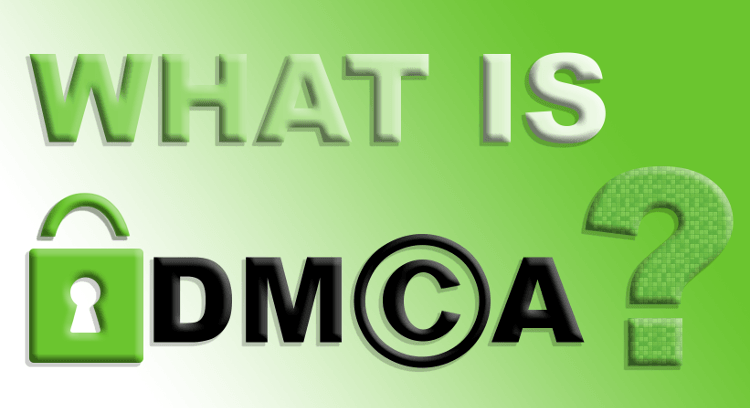 DMCA stands for Digital Millennium Copyright Act. This notice prevents people or organizations from infringing copyright materials online. When a DMCA notice is issued, the organization or the internet service provider is notified that someone on their network is involved in illegally downloading or publishing content online. For example, if you post a picture to your website and it has copyright, you will receive a DMCA notice from the copyright holder. In this case, it will be asked that you remove the picture from your website. Failure to comply can force the copyright holder to take legal notice, which may result in a penalty for 'damages' done. A DMCA notice is useful in securing your content online as you can use this notice to inform people who are not only infringing material but also doing things that lead to the infringing material. The contents that can be covered through DMCA notice are,
Written words

Videos

Audio files (music is most common)

Artwork

Pictures on websites or social media pages

Software
ISPs can either charge you with a penalty or give you few chances – also known as six strikes. These strikes take in to account the accidental violations that a user might carry out. After this strikes wear out, you will be charged by your ISP.
How can you avoid DMCA Notices?
The best way to avoid DMCA notices is to make yourself anonymous on the internet. The best way to secure your identity on the internet is to use a good VPN. Most people receive DMCA notices for downloading copyright material online or publish an article or artwork without the consent of the owner. These notices can be avoided through a VPN as your identity is untraceable. If no one can see your IP address, you cannot be sent the DMCA notice.
Best practices to download torrents safely and anonymously 
VPNs are best used for torrents and streaming blocked content. In terms of torrenting, you want to avoid showing your IP address online as you might be given a DMCA notice if you violate any copyright laws. Some countries have strict laws about torrenting, so all users want to stay private while uploading or downloading digital content. The United States has strict laws on torrenting as well due to people downloading songs and software illegally. For example, a simple windows XP installation being downloaded online is a loss of money for the company. Stricter laws were introduced to protect companies from losing their money to online piracy. A VPN is an easy fix for this issue as it bypasses any major concern you have regarding your identity being exposed online.
Not all VPNs provide you with safe torrenting experience, which is why we provided you with our recommended VPNs. The best VPN to download torrents is tested for several days by our experts, and they are judged on a few important characteristics that a good VPN must-have. Most otherwise good VPNs fall short of performance when it comes to torrenting. Our experts have found that many VPNs are slow in terms of downloading speed and uploading speed. Furthermore, some VPNs have weak or no IP leak protection. This means that you are compromising on your security – if your IP address is leaked, your identity will be revealed to your ISP and other third parties. Finally, log-policy is another important factor when it comes to selecting the best Torrents VPN. 
Let's look into the characteristics that make the best Torrents VPN. Our recommended best VPN for torrenting is selected after fulfilling these criteria. 
Security – A Torrents VPN should have high-level encryption. Some VPNs have 128-bit encryption, which is an older version of encryption. You need a VPN with 256-bit encryption, which is much more secure. Furthermore, a VPN must have a kill switch and DNS leak protection in order to make sure your VPN is fully secure.
Logging policy – Many best VPNs for torrenting come with some logging policy which states whether they store the data for a couple of months before deleting it or not. If there is no policy stated, it's better to avoid such VPNs. You don't want your VPN to save any logs of the activities online. Look for zero log policy VPNs as they delete the activity logs without storing it.
Bandwidth limit – Throttling is something most ISPs practice. Your connectivity is often limited due to the ISP putting a data cap on your connection. If a VPN provides you with unlimited bandwidth limit without throttling your connection – you would love to use it while torrenting!
Speed – The torrent VPNs must have good connection speed as you need high speed to download torrents faster.
Shared IPs – Shared IPs are best when it comes to making sure your identity remains safe. When having a shared IP system on a VPN, you can use multiple IPs to connect. This way, your activity cannot be traced back to you.
Final Words
Torrenting is best for download or sharing files online. A VPN enables you to freely download your content without worrying about legal restrictions or a DMCA notice. You need to ensure your VPN is safe and provides you with the best speed without any data caps. Check out our recommended VPNs for torrenting in order to enjoy fast speed and high security.