CyberGhost VPN Prices Review
CyberGhost VPN has three package plans to choose from: monthly plan, 1 year plan and 3 years plan. Reviewing CyberGhost's package plans, it can be said that CyberGhost VPN lack a variety of package plans with respect to short term users. If you are a casual user and do not wish to subscribe for a long term plan, the only choice you have is CyberGhost's monthly package plan.
CyberGhost offers a monthly package subscription for around $12.95. Comparing it to other service providers out there, the price charged by CyberGhost VPN is a little expensive. In fact, CyberGhost's monthly subscription price is almost same as flagship service providers in VPN industry such as ExpressVPN and NordVPN. If you wish to save a few bucks, you might want to consider CyberGhost's 1 year and 3 years plans which cost you around $5.95 per month and $2.99 per month respectively.
CyberGhost VPN's review of package plans reveals that CyberGhost's price is a bit skewed to the higher end. The features offered by CyberGhost VPN might be market competitive but lack of variety in short term plans and higher price is a bit of a turnoff for our review team.
Introduction
VPN has become an absolute necessity these days. With the increasing risk of data theft, constant surveillance and geographic restriction on content, VPN technology is our ultimate savior with respect to online privacy and security.
Since there are a lot of VPN service providers to choose from, we here at VPNReviewsHQ try to bring you the best in business and help you buy a VPN best suited your needs. As online privacy and security enthusiasts, we feel obligated to review different VPN service providers and test their features against their claims for validation.
CyberGhost VPN Review Summary
The VPN service provider we would be reviewing today is CyberGhost VPN. CyberGhost is a Romanian service provider. In terms of jurisdiction, Romania has long declared EU Data Retention laws as unconstitutional. It means that aforesaid laws are not applicable to CyberGhost. Further, CyberGhost claims that they have a strong no log policy to safeguard users' online privacy.
While reviewing CyberGhost's website, we explored that CyberGhost has wide range of servers spread around the globe. The servers installed are of robust security standards and backed by military grade encryption. CyberGhost allows its users to bypass geographic restrictions to access desired content.
CyberGhost is compatible with a number of devices and supports different operating systems. This makes CyberGhost an excellent choice of VPN for Windows, Mac OS, Android, iOS, Linux, and routers. CyberGhost has an easy to use app and allows up to 7 simultaneous connections.
We would be testing CyberGhost VPN against its features and dive deep into its privacy policy. Our detailed review of CyberGhost VPN will enlighten pros and cons of using CyberGhost. Moreover, we would be giving our verdict of whether or not one should consider CyberGhost VPN as an alternative choice when buying a VPN.
Our CyberGhost VPN Review Score
Features: 3.9
Apps: 4
Security: 4.1
Speed: 4.15
Overall: 4
CyberGhost VPN Review in Points
Pros
6150+ VPN servers installed in more than 120 locations
Servers cover the geographic area of more than 90 countries
830+ servers in United States
1117+ servers in United Kingdom
211+ servers in Canada
76+ servers in Australia
671+ servers in Germany
452+ servers in France
114+ servers in Italy
256 bit AES encryption
Dedicated servers for streaming
IP leak protection.
Strict no logging policy
Unrestricted access to Netflix and other VoDs
CyberGhost supports torrenting
Offers multi login with up to 7 simultaneous connections
CyberGhost is PC compatible with its app for Windows and Mac
CyberGhost is mobile compatible with its app for Android and iOS
CyberGhost's compatibility for other devices include: Linux, Routers, AndroidTV and FireTV
CyberGhost is also compatible with Chrome and Firefox browsers
CyberGhost offers 24 hours free trial
CyberGhost gives 45 days money back guarantee
Cons
Lack of variety with respect to short term package plans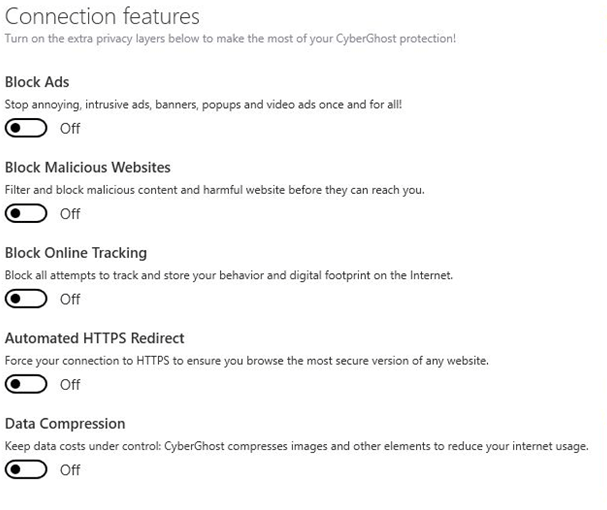 CyberGhost HQ and Five Eyes Jurisdiction
When reviewing any VPN, our team at VPNReviwsHQ explores the location a service provider is operating from. The rise of technology has brought along many unforeseen threats that sabotage our online freedom and security. One of these threats is constant surveillance by governments and legislative officials.
There is an alliance known as The Five Eyes constituting countries like the United States, United Kingdom, Canada, Australia and New Zealand. Allegedly, these countries not only spy on their people but also share surveillance records and information among themselves.
Aforesaid countries have collectively formed certain laws and regulations that compel service providers including VPNs to collect user information and logs. This information can then be unconditionally accessed and used by the members of The Five Eyes alliance.
Hence, the location of a VPN service provider plays a huge role in safeguarding your online privacy and security. It is a standard part of our review process to find the location a VPN service provider's HQ is based and see whether aforementioned regulations are applicable in its operational locality.
During our review, we found that CyberGhost VPN is HQed in Romania. In this location, EU's data retention laws have long been declared unconstitutional and irrational. This means that CyberGhost VPN cannot be compelled or forced to oblige surveillance laws to serve The Five Eyes.
Thus, it is safe to assume that CyberGhost VPN does not log or store its users' data such as your real location, browsing history, online activities and IP address. And our review team highly recommends CyberGhost VPN to all security enthusiasts out there.
CyberGhost VPN Features
Bypassing Geo Restrictions
The second most prominent use case representing a VPN service, if not the first, is bypassing geographic restrictions. If you are new to this term, allow us to explain. Geographic restrictions limit content to be accessed in a particular locality or by a certain individual. Similar restrictions can also be imposed by your internet service providers or VOD conglomerates such as Netflix to limit content access to a particular locale.
These restrictions mainly work around your IP addresses. When a user sends request to view certain content his access is either approved or declined based on the IP address. So, the trick is to fake your real IP and mask it with the one representing desired location. A cheap and possibly "Free" workaround to this is a proxy – "Free" not "Safe". Further, if you wish to access premium VOD content such as Netflix, Amazon Prime, Hulu, HBO and BBC then a proxy might not even work.
A more stable and safer alternative to a proxy is VPN. A VPN allows you to bypass all geographic restrictions imposed by your country, ISP and any VOD conglomerate. You can mask your real IP with the one representing a VPN server of your desired location – allowing you absolute online freedom and ability to access desired content.
In this section of CyberGhost review, we would explore how CyberGhost allows you to bypass all restrictions and access your desired content without any hassle. With more than 6000 servers in more than 100 locations at your disposal, you can access almost anything and everything geographically restricted.
While reviewing CyberGhost's app, we found that CyberGhost not only allows you to access streaming services blocked in your country but the service providers has dedicated streaming servers installed to facilitate your needs. Yes! CyberGhost has servers optimized for streaming lovers and binge watchers.
With these servers, you can access premium geographically restricted VODs such as Netflix, Amazon Prime, HBO Go, Hulu, BBC iPlayer, Vudu, Comedy Central, Fox, Showtime, Crunchyroll, ESPN, MTV, HBO Now, YouTube Premium, Disney, NBC, Crackle, BBC One, BBC Two, CBS, VRV, Europe1, TF1, ARD, Gem, Eurosport, Hotstar, and so on.
So, if you are a streaming lover and looking for a VPN to access content outside your country then our review team at VPNReviewsHQ highly recommends CyberGhost VPN. With an easy to use app and streaming optimized servers, CyberGhost is definitely an alternative to consider when buying a VPN service.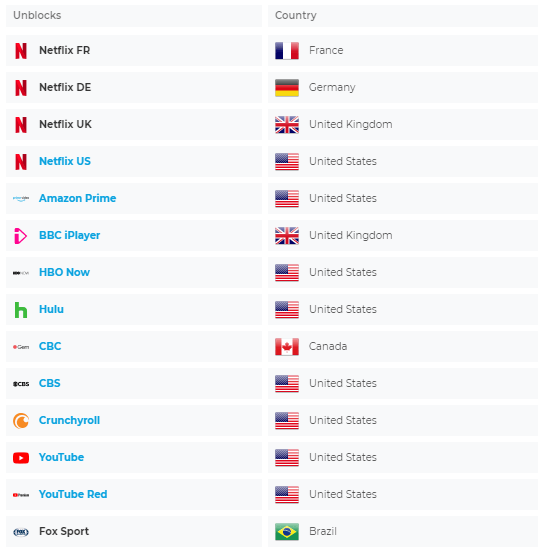 Unblocking Netflix with CyberGhost
CyberGhost is one of a few VPN service providers in the industry that offer dedicated and optimized servers especially for streaming. Netflix being one of the VOD giants is preferred by viewers around the globe. However, the content accessible to Netflix subscribers in the United States would not be accessible to you. This is because of the geographic restrictions imposed by Netflix to restrict content on the basis of locality.
Even though you are a United States citizen and subscribed to Netflix U.S. you cannot access its content if you are outside of the country for some reason, be it studies, business travel or oversees vacations. This proves the point aforesaid in this CyberGhost review, governments and ISPs are not the only ones that restrict content based on a specific locality.
There are a lot of free proxies and location spoofing services available out there who claim to help you bypass such restrictions by faking your location. Nevertheless, these are just temporary fixes. We all know that VOD giants such as Netflix are on a hunting spree to detect and block any suspicious IP addresses. This rolls out the possibility of using a proxy or any other location spoofing service to unblock Netflix.
CyberGhost, on the other hand, is on a whole new level. CyberGhost is one of a few VPN service providers that have streaming optimized servers for Netflix. People at CyberGhost are constantly upgrading their servers and coming up with new IP addresses. This means that even though your previous IP connected via CyberGhost VPN gets blocked for some reason, you can replace it with a new one by connecting to CyberGhost's servers optimized for Netflix.
This is an amazing feature for users who love to Netflix n' Chill. Our review team has personally checked and verified that CyberGhost's streaming optimized servers for Netflix effectively bypass all restrictions as it allowed us to binge watch Netflix U.S. without any hassle. So, if you wish to unblock Netflix's content outside the U.S. our review team highly recommends that you consider CyberGhost VPN.
Torrenting
CyberGhost not only is a premium choice VPN for streaming lovers but also the users who love torrenting. As said above in this CyberGhost review that the service provider offers dedicated servers for streaming. Well, CyberGhost has something in the box for torrent lovers as well. CyberGhost offers its users dedicated servers that are optimized especially for torrenting.
These torrenting optimized servers not only facilitate P2P connections but also enable CyberGhost users to see a number of users connected to each server. This helps you figure out the server load which often affects connection stability and overall speed. By connecting to a server with minimal users online, one can enjoy better download speed which is essential if you love torrenting.
Not only this, CyberGhost has a very strong zero logs policy which safeguards your online privacy and security at all times. So, you do not need to worry about your identity being disclosed. Further, CyberGhost has a port forwarding feature which enables users to upload files safely without any hassle. Considering all the features aforesaid, our review team definitely recommends CyberGhost for users who prefer torrenting.
Speed Test
Speed is of utmost significance to any internet user out there. Whether you are a security and privacy enthusiast or a casual internet user, compromise on internet speed is just unacceptable. Our review team is well aware of this fact. And we are also aware of a VPN's effect on a standard internet connection.
Many brands in the VPN industry are notorious for their speed throttling. If your preferred VPN service provider is an exception, there is still a strong likelihood of a VPN affecting your internet speed in general since it reroutes the connection via its servers.
Therefore, it is a standard of our review process to incorporate certain speed tests to show you the effect of a certain VPN on your internet connection. In this section of CyberGhost review, we would incorporate the speed tests conducted before and after connecting CyberGhost VPN.
The screenshot given below was taken by our review team before connecting CyberGhost VPN. The download speed recorded was 6.56 Mbps and upload speed was 18.66 Mbps along 31 ms ping.
The second snapshot was taken by our review team after connecting CyberGhost VPN. It can be seen that ping has slightly increased from 31 to 36 ms. Download speed has declined minimally from 6.56 Mbps to 6.34 Mbps. Upload speed has also been slightly downgraded from 18.66 Mbps to 17.53 Mbps.
From the comparison of before and after tests, it is obvious that the effect of CyberGhost VPN on an average internet connection is minimal. Note that the before and after tests may vary from ISP to ISP and user to user as there are different factors that come into play. Nevertheless, as per the tests conducted by our review team, CyberGhost VPN does not affect your internet connection significantly; this makes the service provider worth recommending.
Multi Login
Multi login is one of the features offered by renowned VPN service providers in the industry. Through this feature, you can connect different devices at the same time by using a single VPN account. In this section of CyberGhost review, we would check if CyberGhost offers multi login feature.
CyberGhost VPN, unlike any other service provider in the industry, offers 7 multi logins using a single VPN account. This means that you can connect up to 7 devices simultaneously through one account only. This sets apart CyberGhost from even the flagship brands in the VPN industry as most of the brands offer up to 5 multi logins.
This is a strong standpoint from security as well as convenience point of view. This enables you to protect 7 devices simultaneously from online privacy and security threats. From our review team's perspective, this is one of the best if not the best feature of CyberGhost.
Device Compatibility
Device compatibility is one of the major factors to consider when buying a VPN service. Most of the VPN service providers allow users to connect multiple devices using a single account. A single household might have an Apple fan boy and hardcore Android user. So, to make the most of this feature, you must also consider device compatibility of a VPN service provider.
By device compatibility we mean a number of devices and operating systems that are supported by the VPN. Why leave your cell phone unprotected when you have a VPN installed on your laptop. In this section of CyberGhost review, we would explore the devices service provider is compatible with.
CyberGhost VPN is compatible with Windows and Mac OS. This makes CyberGhost an excellent choice for PC. CyberGhost VPN supports Android and iOS – offering unbeatable security for your mobile devices. CyberGhost VPN can be easily configured on Routers, hence, securing all supported devices that are connected. Not only this, CyberGhost can also be installed on Android TV, FireTV and Linux.
CyberGhost's compatibility with all aforesaid devices and operating makes it suitable for Windows, Mac OS, Android, iOS and Linux users along with Routers. This makes it easy for our review team to add that +1 for CyberGhost VPN in terms of device compatibility.
CyberGhost's Privacy Policy
Privacy is one of the main concerns in today's era of technology. As per the revelations of Edward Snowden, there are many surveillance agencies keeping a close eye on our online activities. This breach of privacy is done in the name of national security – butchering the rights of people these so-called saviors have sworn to protect.
Surveillance agencies are not the only threats to our online privacy though. Many service providers including your ISPs and VPNs allegedly record and maintain user logs. These logs contain information regarding your online activities, data shared and received. Since most of the users prefer to use a VPN to safeguard their online privacy and security, subscribing to a service provider that maintains user logs nullifies the core purpose of using a VPN in the first place.
While reviewing CyberGhost's privacy policy, our review team found that CyberGhost claims to maintain zero logs and has a very strict privacy policy. Although, their privacy policy is a bit dense and filled with technical jargons uneasy to comprehend by a layman. Information about cookie agreement is hard to find which is a bit concerning to us. Overall, CyberGhost could have come up with a simplified version of their privacy policy.
With that said, CyberGhost claims to maintain no logs whatsoever. As said above, CyberGhost's HQ is based in Romania which takes the service provider away from The Five Eyes' jurisdiction. As per CyberGhost's privacy policy, the company has zero tolerance for user logs and collects no data pertaining to users' online activities, browsing history, information shared and received.
CyberGhost is neither obliged nor compelled to share any kind of user information to surveillance agencies or governments of any country. This adds another +1 for CyberGhost and makes it easy for our review team to recommend the service provider.
Knowledgebase
Knowledgebase refers to information made available to users by a service provider that can facilitate them and help in resolving their self-sufficient queries and concerns. CyberGhost's knowledge base constitutes announcements about their product, answers to frequently asked questions, detailed tutorials on troubleshooting problems with service and detailed guides to facilitate installation process.
CyberGhost's knowledge base might not seem fancy like a few flagship service providers out there but it has all necessary information to help you solve problems with the service. For further assistance, you can bug CyberGhost's customer support if you are not that tech savvy to resolve concerns on your own. Overall, this is another +1 by our review team for CyberGhost VPN.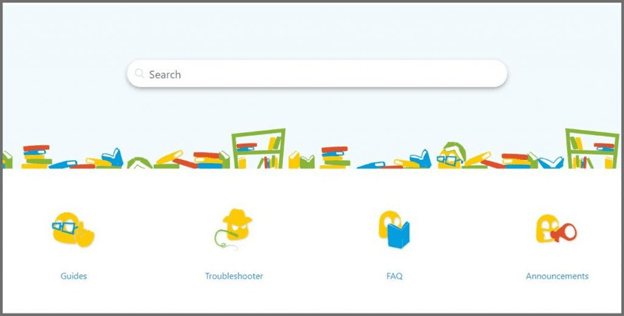 Customer Support
CyberGhost's customer support is available at your disposal round the clock 24/7. If you are new to using a VPN service and somehow stumble upon an issue with the service, you should definitely contact their support to help you solve the issue. CyberGhost's customer support can be reached anytime via live chat. Their staff is polite and literate enough to solve your concerns.
There is another way to contact CyberGhost's customer support and that is via creating a ticket. Through your ticket, you can prescribe the details about the issue you are facing and CyberGhost's team will get back to you at their earliest.
One more thing that our review team genuinely liked about CyberGhost VPN is that you can report a problem or send feedback directly via CyberGhost's VPN app. Another +1 by our review team for CyberGhost VPN I guess. Usually, VPN service providers ask you to visit their website or your member's area to send feedback or report any issue. CyberGhost takes user convenience to a whole new level by enabling this process in their app.
CyberGhost VPN Protocols
When you connect to the internet, your device forms a connection with a distant server. This server is responsible for receiving query generated by your device and responding in return. This exchange of information allows us to surf the web and access our desired content.
The coded message sent from our device to the server and the one received in exchange allow us to connect with our friends, access desired websites, download information, play games and do whatever it is that we do on the internet.
The information shared and received by our device is not ordinary. It may contain personal and confidential data such as your private pictures, emails, chats, messages, banking information, financial details, social media credentials and other sensitive data. Since our internet connection is not protected, this information becomes susceptible to theft.
Man-in-the-middle attacks enable an average hacker to infiltrate your network security and access your highly classified data. There can be multiple solutions to this, one of them and probably the easiest one is to secure your internet connection via a VPN.
A VPN reroutes your device's signal via its servers rather than sending it directly to the destination server. This prevents network infiltration and minimizes the likelihood of security breach. Further, a VPN encrypts your information via sophisticated tunneling protocols to ensure its safety.
Even though a hacker somehow manages to infiltrate your network security, the information accessed would be of no use to him if your device has a VPN enabled. A VPN would encrypt all your data transferring through the connection bridge which might take decades to decode and make sense of.
In this section of CyberGhost review, we will go through its security protocols supported to facilitate security conscious users. There are a few flagship service providers in the VPN industry that offer military grade encryption, CyberGhost is one of the. You can secure your internet connection with a wide range of tunneling protocols offered by such as OpenVPN, IKEv2 and L2TP/IPSec.
Further, your data is encrypted via a strong 256 bit AES encryption which is a nightmare for hackers and other unwanted eyes. Overall, our review team highly recommends CyberGhost VPN if you are an online privacy and security enthusiast.
CyberGhost VPN Servers & Locations
When buying a VPN, number of servers offered by the service provider is crucial information to look for. When you connect a VPN, your internet signal is rerouted via a VPN server rather than coming in contact with destination server directly. This makes your data safe from possible man in the middle attacks. In this era, your IP is considered as your digital footprint.
By connecting a remote server, a VPN allows you to hide your real IP and mask it with the one allotted by the VPN server. It is the servers offered by a VPN service provider that allow you to connect to distant locations and access content restricted in your country. Further, masking your real IP with that of your preferred locality allows you to enjoy absolute online privacy and freedom.
Usually, casual users are OK with even a limited number of servers offered by a VPN service provider. Most of these users just need a VPN to bypass geographic restrictions and are least bothered about their online privacy. As long as a VPN has servers installed in location of their desired content, they would put it in the cart just to save a few bucks.
However, there is a potential downside to this. If a VPN service provider has a limited number of servers, their load time would be higher as more users would try to connect to a limited number of servers accessible. This can cause possible disconnection or even connection issues from the start. Hence, we highly recommend you not to compromise on server count just to save a few bucks.
In this section of CyberGhost review, we would explore the number of servers offered by CyberGhost and locations they are installed at. CyberGhost has been in the game for years now. The longevity of CyberGhost's existence in VPN industry means the brand has tons of subscriptions. So, to keep up with that much of a load time, CyberGhost must be very active in terms of server maintenance and server count.
CyberGhost offers 6150+ servers representing 112+ locations in over 90 countries around the world. These servers are very secure and almost impenetrable as they are backed by military grade encryption. This feature alone qualifies CyberGhost among the top tier brands and makes it one of the big sharks of the VPN industry.
CyberGhost VPN for Mac Review
Our CyberGhodt VPN review comprises of all the significant aspects ranging from UI to performance of the CyberGhost for Mac app. The app is designed in such a manner that it is really to navigate around and the app itself is very easy to use. The quick control option lets you establish the connection with a single click.
The CyberGhost VPN for Mac is built in malware and ad blocker. This allows the users to stay miles away from the unwanted ads and malicious wares that can harm you by breaching through your security. The app also allows you select the server you wish to connect from their big network of servers.
Additionally, the app besides encrypting you data for ultimate security also allows you compress data packets, which come handy when you happen to have limited bandwidth internet connections. All in all the CyberGhost VPN for Mac app is impressive when it comes to both design and performance. The app is so simple to use that a user with minimal knowledge about VPN and security can completely stay anonymous while surfing over internet.
CyberGhost VPN for iPhone Review
CyberGhost VPN for iPhone and iPad is readily available over the App store and you don't have to struggle much to get it. Like for the mac CyberGhost for iPhone also has the quick connect feature through which, you can easily stay encrypted.
One more noteworthy feature of the app is that whenever your iOS device gets connected to internet without you being, CyberGhost VPN for iPhone takes the charge to protect your privacy. The app is fully optmized for iPhone X, the design of the app is specially customized as per the specs of the new iPhone X. The app works flawless on iPhone with no crashes and lags.
The app also protect you from DNS and IP leak protection to ensure your privacy with unlimited bandwidth consumption. You also don't need to worry about your privacy when your internet connection drops, as the app has integrated kill switch to immediately halt all data transfer. We really love the app overall based on the performance, features and UI.
CyberGhost VPN for Windows Review
When we compare CyberGhost VPN for Windows app to its brother on all other operating systems and devices, the one for Windows happens to be more advanced and advanced. The app designed for windows lets you create six different profiles that you can create for digital needs. You can create profiles for streaming, streaming and unblocking, anonymous torrenting, website unblocking and Wi-Fi protection.
Additionally, these profiles have the best optimizing settings that can cater to your needs. For instance, if you opt for Wi-Fi protection, the app will automatically put the highest level of protection to default such as maximum DNS and IP leak protection with 256 bit encryption level so that your digital footprints remain a myth. Similarly, if you choose the streaming your connection will be automatically set for higher speed and faster connection.
The advanced and tech savvy users can also customize their VPN connection as per what they think is best suited to keep their identity a secret. No genre of users are deprived of any feature and users can easily mold the settings of the vpn as per their needs.
CyberGhost VPN for Android Review
Using the CyberGhost VPN for Android you can stay anonymous while on the go! The Android app offers all the features that available to desktop users. This aspect of uniformity is worth commending. The provider has made that all features are made available to every user on various platforms. The android app lets you profile your connection as per your need. It has exact six profiles that were made available to the windows users. So be it streaming, torrenting, unblocking you identity will remain concealed on your android handheld.
The easily available on Google Playsore is easily compatible with Android TV Box, which runs on Android 4.0 and above. The app comes with essential VPN protocols, and server selection option for the users. But, we suggest that you make use of OpenVPN to enjoy uninterrupted and secure streaming experience.
The CyberGhost VPN for Android has successfully passed our test with flying colors. Its functions and features are dope. Furthermore, the app is elegantly designed that really gives a good feel while using it. The app is also easy to use for any of your digital needs. In our CyberGhost review, we found the Android app of CyberGhost to be better than iOS app and many other VPN apps for Android.
CyberGhost VPN for Router Review
Like all other top tier VPN service in the market CyberGhost VPN is easily compatiable with wide range of routers in the market, such as Tomato and DDWRT. This leads to a conclusion that CyberGhost is compatible on nearly all the available routers in the market.
Also, setting up CyberGhost VPN of router only counts a single connection out of the seven simultaneous connections. So, it is a great way to use the VPN on various devices by setting VPN up on the router. Thereforem it is suggested that you make use of CyberGhost VPN on your router both at home and work to keep your network and all the devices connected on it safe.
Final Words
After reviewing the features offered by CyberGhost VPN, we believe that the service provider is definitely worth recommending. CyberGhost offers more than 6150 servers installed in 120+ locations. The server locations cover the geographic area of 90+ countries. This is amazing for users that seek a VPN service provider to bypass geographic restrictions and unblock restricted content.
CyberGhost also has dedicated servers for streaming to facilitate your uninterrupted binge watch sessions of Netflix. CyberGhost VPN safeguards your online security by offering 256 bit AES encryption to protect your valuable data from unwanted eyes. This claim is further strengthened by IP leak protection and CyberGhost VPN's strict no logging policy.
CyberGhost VPN allows you to connect up to 7 devices simultaneously via a single VPN account. Since CyberGhost VPN is compatible with a variety of operating systems and devices such as Windows, Mac OS, Linux, Android, iOS and Routers, the service provider is definitely an excellent choice for all PC and mobile users. Moreover, CyberGhost VPN can also be setup and configured on AndroidTV and FireTV along with variety of browsers such as Chrome and Firefox.
CyberGhost has 3 package plans to choose from: monthly, 1 year and 3 years plan. Though CyberGhost's monthly plan seem a bit expensive, other package plans definitely offer you value for money. With offers like 24 hours free trial and 45 days money back guarantee, we say CyberGhost VPN is worth a shot.
Summary
Reviewer
Review Date
Reviewed Item
Author Rating