HideMyAss! VPN Features and Pricing
HMA offer one basic product with variable pricing depending upon the term you want the subscription for. If we look at the pricing of the brand, we can certainly state that it is not one cheapest option for you, which somehow can be a setback for the users. For instance their one year plan, which broken down to monthly basis will come at a price of $6.99 per month. What a rip off! This is way higher than the industry average, the industry average is somewhere between $3-$5. Besides, the higher plan you opt for you tend to get steeper discounts, which is when it comes to HMA is missing.
You can easily subscribe for the desired plan through major credit cards, UnionPay and Pay. For users who are concerned about privacy, unfortunately the provider does not accept cryptocurrency payment. However, the provider is generous enough to give 30 days money back guarantee if you happen to dislike the service, or are not satisfied with what you have.
Let's see what do get for the money you pay. Hide My Ass, has a server count of 850, which are spread across 180 countries around the world. The servers have been segregated to support P2P file sharing most commonly known as Torrenting, while other are dedicated to access streaming websites. Additionally, all plans comes with unlimited bandwidth and you can connect up to device simultaneously on a single account. The brand also offers app for various platforms and operating systems such as Windows, MacOS, iOS and Android. Similarly, you can also manually setup HMA on Linux and some routers, that comes pre-configured.
When it comes to security HMA offers strong encryption, perfect forward secrecy (TLS), automatic Wi-fi protection, and kill switch that only comes in desktop apps. Privacy however, still remains an issue, as the provider is still struggling to find the antidote for the plagued the service in the past.

Introduction
Hide My Ass or HMA is a UK bases VPN service provider that got claims to be successful among the majority of user in the VPN market. The service claims to have mammoth customer base with count of 400 million till date. The provider has come across various controversies pertaining to user privacy. In order to revive from those share of controversies the brand has floated updates hoping to win back the loyalty of lost subscribers.
Our Hide My Ass Review takes the service to a test run to see the improvements made and whether it is worth paying for.
HideMyAss! VPN Setup and Interface
Getting Hands on HMA is really simple, the apps designed are real simple and user friendly. After you complete your sign up, you'll be given a license key. You can either sign in using this key or your credentials in any app irrespective of the platform. However, our review will be limited to Windows client and iOS app.
Hide My Ass VPN for Windows
After you have started and logged in the client, you be welcomed with a Success screen. From the main screen of the app you'll have access to Instant Mode, Location Mode, and Freedom Mode.
The instant mode lets you connect to the fastest server from your location.
Whereas, the location mode allows you to select the server of your choice you wish to connect to. For that you have to click in the change location, which will give you the list of servers to choose from. The drop down menu will list you the servers based on different criteria. You will also come across "All" option in the app, which will give you the list of countries arranged in alphabetical order. By clicking on the arrow to the left of the country name will take you to specific locations within the country.
You can also access the list of recent server you were connected to using the Quick Access option, accompanied by recommended options. You can also unblock popular streaming service like Netflix, USA or UK through the streaming option the client.
The Peer to Peer will guide to the list of server that allow P2P file sharing. You can also mark the server you like using the Favorite option. All you have to do is click on the heart option and the server will be added to your favorite list.
The one last option that you'll come across on the main screen is the Freedom Mode, which is specially designed for users who are aiming to bypass censorship. And by clicking on it you will be connected to the server that is deemed to free of censorship.
You can find the settings menu in the upper left corner of the main screen. In the settings you'll come across options such as General, Network Security and Kill Switch. The general option will you allow you modify the boot option of the client. Such as would you want the client when the windows starts or not.
In the personal privacy section you can set the visibility of you history, should it be made visible or not.
Next, is the Network Security, which is more for advanced users. Here you can manage settings such as IP shuffle, TCP with OpenVPN. However, this is only recommended if UDP is blocked or throttled. TCP is more stable, but UDP is typically faster. You can also adjust the settings for automatic Wi-fi Protection.
The last tab belongs to Kill Switch tab, where you can activate or deactivate this option so that it works on the applications. This tab also allows your add or exclude the application where the Kill Switch option works.
This is a fairly robust app and it's definitely both aesthetically pleasing and easy-to-use.
HideMyAss VPN for iOS
Most of the VPN providers have designed mobile app that are non-identical to the ones made for desktop version. However, this is not the case with HMA. The provider has streamlined its product, and the app for windows and iOS are almost identical.
After you have logged in the app and on the main screen, which happens to be exactly same as that of desktop screen. On the main screen you'll again come across Instant Mode, Location Mode and Freedom Mode.
The app only differs when you select Location Mode. The options here appear in a different manner. You'll get to see three tabs for Countries, Cities and Favorites. And you'll find Streaming, Peer to Peer and Quick Access missing.
In order to access the streaming servers from the app, you'll need to go to cities list and then find the Liberty Island server under USA, New York. In order to access Netflix UK and BBC iPlayer you'll have to look for UK, Donkey Town Server.
The setting for the app can accessed by clicking on the menu icon, which lies on to the top left corner of the screen. In the settings you'll have two options namely Connection Rules and Personal Privacy.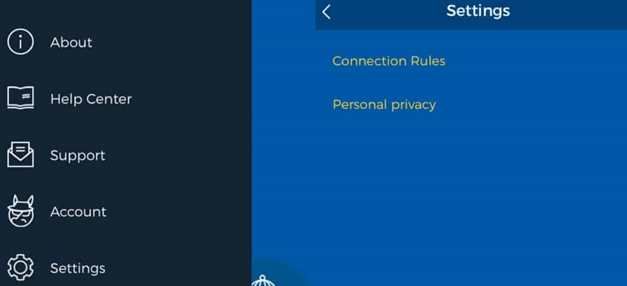 The connection rules tab allows you to adjust Wi-Fi security settings, to decide whether to auto reconnect the HMA when the internet connection on you mobile is interrupted.
The personal privacy section only comprises of one option, Share usage data with third parties for analytics, which basically allow for your permission to allow the app to share device usage data with third parties for analytics. Bear in mind that this is enabled by default so it might be one of the first things you want to turn off.
Overall, this is a sleek and intuitive app, but some users may be missing additional features such as a kill switch and the option to switch protocols.
HideMyAss VPN Servers and Performance
The network of Hide My Ass has 850 server spread across 190 countries around the world. Where some of the servers are virtual, we in fact the customer support representative himself was able to tell us the exact count.
As mentioned earlier, HMA offer various options for selecting the right server, including different modes and the ability to mark them as favorites. Servers that allow P2P sharing are highlighted with P2P symbol.
The performance of the provider was checked by connecting to various US and UK based servers. Browsing, streaming and downloading were our core focus here. The performance of provider seems to be decent enough, we came across no significant issues. However, we did face noticeable page time loading, when we were connected to UK server. This something which is not common for geographically distant servers, but could prove to be frustrating when it comes to user who happen to have slow internet speeds.
The service worked flawlessly when it was checked for streaming. We were able to stream videos in 1080p with no buffering.
HideMyAss! Speed Test Performance
Our speed tests have been designed to be as empirical as possible. At the time of this review, those benchmark speeds without a VPN were 95 Mbps download and 52 Mbps upload.
Then, we connect to various VPN servers around the world, and use a reputable third-party tool (SpeedTest.net) to get current performance readings.

US Server (New York)
Ping: 113ms
Download: 58.98 Mbps (39% slower)
Upload: 30.38 Mbps (43% slower)
EU Server (Amsterdam)
Ping: 41ms
Download: 63.34 Mbps (35% slower)
Upload: 50.12 Mbps (6% slower)
Asia Server (Hong Kong)
Ping: 284ms
Download: 19.25 Mbps (80% slower)
Upload: 13.09 Mbps (75% slower)
UK Server (London)
Ping: 45ms
Download: 64.42 Mbps (34% slower)
Upload: 43.30 Mbps (19% slower)
The figures posted by the service are pretty decent, though they are not the fastest ones that one can get. Most importantly, EU, US and UK server were pretty consistent, which means that overall performance of the provider on various servers.
The figures also highlight that when it comes to Asia, their performance deteriorated.
Does HideMyAss! Unblock Netflix?
Yes, HMA does unblock Netflix, but on limited servers. You can stream Netflix by simply connecting to any server. We tried our luck with random servers to unblock Netflix US and ended up disappointed.
Here is how you can unblock Netflix US, you'll have to go to streaming option from the dropdown menu in the Location mode, where you'll find US and UK servers. Note that if you happen to use mobile app you'll have to locate these servers in the location mode within the cities.
Connecting to US will give you access to Netflix US, and UK servers will give access to Netflix UK and BBC iPlayer. HMA however, is shabby when it comes to unblocking Amazon Prime Video, and there is no estimated time for it to be back up.
Does HideMyAss! work in China?
Unfortunately, the functioning of HMA in China is not reliable. There are mixed reviews about HMA working in China, older reviews were in favor, but the recent comments in the support form clearly states that it not more functional in China now!
HideMyAss! VPN Security and Privacy
Being bases in UK, HMA has to come across data retention laws. The reason being UK is a member for both Five and Fourteen Eyes country, which means that data monitoring and retention by external government authorities is inevitable. UK being home to Snooper's Charter also imposes regulations that ISPs in Britain, this is why user privacy is greatly affected.
Providers that operate outside the jurisdiction of Five Eyes, are not liable to hold any privacy or connection logs, which is not the case with HMA!
HMA's privacy policy happens to be the one that might put the users off. If you're using HMA you might expect that data such as IP address, timestamps, and the amount of data you consumed will be logged. This is a big NO NO for a VPN provider in general. There is no denying to the fact that IP address can be used to track activity of individuals. IP address is something, which is personal to the user and therefore, being pro-privacy there is no point for the provider to keep a track of IP address or connection log.
Furthermore, HMA also logs VPN IP address connected to a session. This IP address is the one, which can be recorded and viewed by the website operator. As both your real and VPN addresses are logged on the website and on the VPN itself, it would technically possible to monitor you activity on the internet. One possible solution to confuse things a bit is to make use of the IP shuffle feature. When enabled this will switch you IP address periodically to a different one. But, again this won't make you untraceable, but surely add an extra layer of obfuscation.
Putting privacy issues aside, HMA is quite strong on the security front. The provider uses a 256 bit encryption protocol, which is regarded as a military grade security protocol. When combined with 4096 bit RSA keys you get a godly security layer to your digital footprint. HMA also uses OpenVPN protocol over UDP by default. But, you can always switch to TCP in the desktop client. PPTP, L2TP, IPSec are also available at your disposal, depending on which app you're using.
When it comes to DNS leak protection, HMA failed miserably. When connected to HMA we tried accessing some geo-restricted website and content, but our access was denied. This was again confirm from the live agent on their website. The customer support agent confirmed that there is DNS and IPv6 leak protection, but no WebRTC protection. The provider was again tested for the leak protection and we came to a conclusion that there major WebRTC leaks and minor DNS leak issues. HMA uses public DNS server, which is not good fit privacy standpoint.
One handy feature, which is not unique is the automatic Wi-Fi protection, i.e. whenever your device has internet connection HMA would automatically connect to secure your privacy.
HideMyAss! VPN Customer service
In case you need help while using or setting up the VPN, you can seek assistance from a couple of options. First, you directly access their guides on the website, by simply clicking on the Help tab on the website. From there you can access their knowledge base, the articles written related to troubleshooting, setting up and usage are quite self-explanatory.
If your problem persists, you can also access the community, which is like a forum. You can discuss your problems and seek for guidance from the people who might have come across problem similar to yours.
The last option that you can make use of is the Live Chat. The provider has responsive and knowledgeable agents. They are quick when it comes to solving problems and issues that you might come across. However, agents were not able to answer questions related to security. He further advised in order to get a definite response an email would. We did shoot an email, and we impressed to see the response within two hours.
Final Verdict
To sum up, HMA as per our assessment is an average service. No doubts, that it offer fast speeds, unlimited bandwidth, and a good network of severs. The service works flawlessly when it comes to streaming on big VODs. There no flaws in the when it comes to customer support and the app are intuitive holistically. But, when it comes to privacy the brand is poor.
All in all, HMA can prove to be option for those who are more inclined towards torrenting, as there are no data caps and some server are actually designated for P2P sharing. As mentioned earlier, privacy is one issue that is questionable for torrenters as well. This is a big turn off from the provider, as the privacy of the user is at stake. Lastly, one another concern that deranks the provider is its inability to work in China.
Summary
Reviewer
Review Date
Reviewed Item
Author Rating