Ivacy Prices Review
iVacy is one of a few VPN service providers out there that are easy on your wallet. Without much compromise, iVacy offers you similar features to that of a premium VPN service provider at an extremely affordable price. iVacy has three package plans to choose from: monthly, annual and 2 years plan. The package plan that offers you the most value for money is iVacy's 2 years plan. In exchange for its service, iVacy bills you $48 annually which means you end up paying $2 per month only.

Epilogue
VPN has become an absolute necessity these days. It is an ultimate tool that safeguards our online privacy and security. A VPN not only helps you achieve absolute anonymity online but also protects you from surveillance agencies and other unwanted eyes.
Knowing that there are a lot of service providers out there, choosing the right service provider can be troublesome. Therefore, we, at VPNReviewsHQ, try our best to find you the best options to choose from. In our reviews, we select different service providers in VPN industry and evaluate them against their claims. The service provider we would be reviewing today is iVacy VPN.
iVacy has not been in security business for so long, unlike other major players in the game. iVacy is a VPN service provider based in Singapore with relatively smaller server network compared to its competitors. With more than 1000 servers in more than 100 locations around the globe, iVacy is somehow surviving in the cut throat competition of an industry that is in its extended maturity phase.
That is not the only thing that amazed us about iVacy though. After some research, we found that iVacyVPN is not only surviving but thriving in a saturated market. They might have been a little late to the game but they efficiently penetrated the market with their affordable prices. Not only this, iVacy's features are similar to any other premium brand in the VPN industry. So, without further ado, let us dive in and see if iVacy lives up to the hype.
There are 100+ servers spread across more than 100 locations, for instance. You get apps for Windows, Android, iOS, Mac and Kodi, as well as Chrome and Firefox extensions. It's torrent-friendly, there's malware blocking, no logging, the service supports up to five simultaneous connections, plus it has a kill switch to protect your privacy if the connection drops.
Our Ivacy Review Score
Features: 3.9
Apps: 3.5
Security: 3.65
Speed: 3.6
Overall: 3.66

Ivacy Review in Points
Pros
Price as low as $2 per month

Offers 256 bit AES encryption

Supports PPTP, L2TP, SSTP, OpenVPN and IKEv2 tunneling protocols

Recommended for streaming as iVacy unblocks Netflix and other popular VODs

iVacy offers an easy to use app – optimized for user experience

Internet kill switch enabled

Offers dedicated IP

IPv6 Leak protection

Split tunneling

Multi login support with up to 5 simultaneous connections

Recommended for PC users as iVacy supports Windows and MacOS

Recommended for mobile as iVacy supports Android and iOS

Other compatible devices include Routers, xBox, PS4, Kodi, RaspberryPi and SmartTV

Strict no logs policy

Cooperative and prompt customer support
Cons
Comparatively smaller server network – 1000 servers in 100+ locations

Some servers are slower than others and affect internet speed tremendously
Review of Ivacy VPN Features
No Logs Policy
The practice of keeping logs is common is the VPN industry. A lot of VPN service providers even a few market giants have either a very shady privacy policy or keep the logs any way. iVacy VPN on the other hand is one of the few exceptions out there. iVacy's privacy policy is very clear and their logs policy clearly states that iVacy neither stores nor shares any information about its users or their online activities.
iVacy is a Singapore based company. Currently, Singapore is not part of the 14 Eyes of Surveillance. This means that the country is not obliged to abide by the surveillance regulations created and imposed by the notorious alliance. This must be amazing to hear if you are a privacy and security enthusiast looking for an affordable VPN.
256 Bit Encryption
A VPN secures you data against malicious hacking attempts, network infiltration incidents, online surveillance and unauthorized information access. This is made possible via data encryption technology which safeguards users' confidentiality. iVacy, comparatively a small fish in the ocean, is keeping up with industry giants with respect to data security. Our review of iVacy's website revealed that it offers 256 bit AES encryption which is the industry standard right now.
Leak Protection
Leak protection is another feature offered by iVacy VPN to facilitate its users' security. There are many brands in the VPN industry that are struggling with IP leaks. IP leaks kill the core purpose of using a VPN in the first place. Be it bypassing geo restrictions or protecting your real identity, the aforesaid purposes are achieved by masking your digital footprint with an IP representing your preferred server location.
IP leaks prevent it from happening as they accidently disclose your real IP. This might even cost you a subscription or a ban if you are accessing content you are not supposed to access such as Netflix U.S. from another country. To test iVacy's claim we checked if our IP was leaking while we were connected via iVacy VPN. Surprisingly, it was not and below mentioned snapshot is a proof for that.
Internet Kill Switch
Internet kill switch is an amazing feature offered by iVacy VPN. When you are using a VPN, abrupt disconnections are inevitable. They must not be frequent but a few disconnections are acceptable. So, what if you are in the middle of a session and your VPN disconnects? The website you are visiting would instantly learn about your real IP and block your access.
To prevent it from happening, there is a feature called internet kill switch. This feature immediately shuts down your internet access when a VPN is abruptly disconnected. The internet connection is restored after a few seconds but it gives you enough time to close any websites or apps you do not wish to share your real IP with.
Dedicated IP
A standard VPN connection allows you to mask your real IP with the one representing your preferred location server. This IP assigned to you during a particular session might also be shared by other users. If you wish to obtain an IP representing you exclusively then you need iVacy's dedicated IP. Through this feature, the IP assigned to you will not be shared with anyone else. This takes you to the next level of online privacy and security.
Multi Login
Multi login feature allows you to connect and secure different devices simultaneously using a single VPN account. Be it your PC, mobile or router, you can connect all devices at the same time – keeping your information safe from any malicious activity or online surveillance. iVacy VPN allows you to connect up to 5 devices simultaneously using a single subscription account. This is one of the best features that iVacy VPN has to provide considering their price bracket.
Ivacy Device Compatibility Review
Device compatibility is one of the major concerns when looking for a VPN service. Your preferred VPN service provider might not support your preferred device or operating system. This is not the case with iVacy however. When reviewing iVacy's website, we found that the VPN is not only compatible with commonly preferred operating systems such as Windows, MacOS, Android and iOS but it can also be configured on your preferred routers via manual configuration.
Further, iVacy VPN can also be setup on Linux, Kodi, xBox, PS4, Blackberry, SmartTV and many other devices. iVacy has detailed tutorials and easy to follow guides available on their website which facilitate such configurations.

Ivacy Security Protocols Review
As we know that the data exchanged between our device and destination server is susceptible to the risks of infiltration and unauthorized access. In an internet connection powered by a VPN, our data is protected through a supported encryption system. This system encrypts our data – making it useless for unauthorized personnel if network security is breached.

iVacy offers 256 bit AES data encryption which is industry standard and offered by premium VPN brands. Further, iVacy supports a variety of tunneling protocols such as PPTP, L2TP, SSTP, OpenVPN and IKEv2. Our review of iVacy's website revealed that iVacy offers split tunneling feature which enables its users to select the traffic route corresponding the VPN tunnel. Overall, iVacy's security is at par the big sharks of the VPN industry.
Review of Ivacy Servers and Locations
Servers installed by a VPN service provider are one of the major characteristics of its service. It is the servers that allow VPN users to bypass the geographic restrictions and access content of their choice. These geographic restrictions can either be imposed by your government or your internet service provider – hindering your access to certain information. Further, global VOD conglomerates such as Netflix, Hulu, Amazon and HBO are notorious for the restrictions imposed on users with respect to their locality.
Servers offered by a VPN service provider not only facilitate users to bypass aforesaid content restrictions but also protect their real identity. When a user connects to a server, his/her IP is masked with the one representing VPN service provider's server network – allowing a user to hide his real identity online. This shows the significance of a server network representing a VPN service provider.
Upon reviewing iVacy's website, we found that the service provider offers more than 1000 servers – covering 100+ geographic locations. Comparing it to market leaders in VPN industry, it can be said that the number servers offered by iVacy is trifling. An acceptable bargain I guess; if you are not willing to spend much on a VPN subscription.
iVacy's servers cover the geographic area of more than 100 regions including: United States, United Kingdom, Australia, Canada, France, Germany, Italy, Mexico, New Zealand, Netherlands, Spain and many more. However, not all of their servers support tunneling protocols facilitated by iVacy.
There are two categorizations: a set of servers that support PPTP, L2TP, SSTP and IKEv2 whereas others only support OpenVPN, TCP and UDP. The aforesaid facts should not bother you much if you are looking for a VPN to bypass geo restrictions. Though, they may be a bit alarming for security enthusiasts.
Ivacy for Mac Review
There are two ways for you to secure your internet connection on Mac using iVacy VPN. You can either set up an iVacy VPN connection manually on your Mac. This is obviously not recommended if you are a little goofy when it comes to tech.
For this you need to visit iVacy's website after you have subscribed to their service. There you can find a detailed guide which would walk you through step by step to configure iVacy VPN connection manually on your Mac. The guidelines may differ a little depending upon your preferred tunneling protocols such as PPTP, L2TP and IKEv2. And it seems like PPTP, L2TP and IKEv2 are the only tunneling protocols supported by iVacy VPN for Mac.
To setup iVacy VPN for Mac visit iVacy's website to check their detailed tutorial for manual VPN configuration.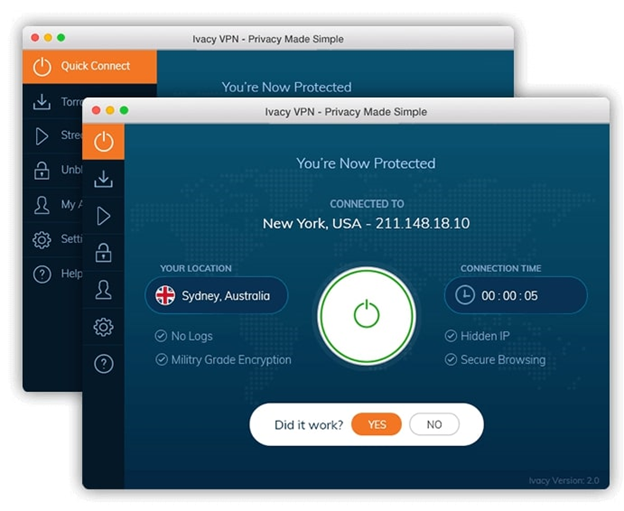 Ivacy for iPhone Review
If you are an iPhone user and currently seek an affordable VPN for your device then we highly recommend you to check out iVacy. It is one of the best if not the best VPNs for iPhone if you are looking for something that is easy on your wallet.
iVacy's VPN app is available on the App Store and can be downloaded from there. The app has 4.4 rating and most of the customer reviews are positive which is pretty good to be honest. The app is really easy to use and has unnoticeable issues when it comes to user interface.
You can secure your iPhone's connectivity with just a single click via using 'Smart Connect'. iVacy's VPN app for iPhone enables you to select your desired location – allowing you to bypass the geo restrictions and access content of your choice.
Further, iVacy's app for iPhone really hits the spot when it comes to user experience with its 'Purposes'. Uses of a VPN are diverse, though, they can be summarized into internet security, streaming and unblocking. iVacy's VPN app for iPhone allows you to select your preferred use case and automatically connects you to a servers optimized for fast streaming, secure downloading and unblocking content.
Ivacy for Windows Review
iVacy VPN can be installed on your Windows device or PC either manually or used via an app. To configure iVacy VPN manually on Windows you need a working internet connection and iVacy VPN subscription.
iVacy allows you to configure PPTP, L2TP, SSTP, OpenVPN and IKEv2 on Windows. iVacy support 5 tunneling protocols on Windows in contrast with Mac which only had 3 protocols supported. To manually configure iVacy VPN for Windows you need to visit their website and follow the simple steps provided in the configuration tutorial.
A much simpler way to use iVacy VPN on Windows devices is via its client. iVacy has an amazing app – optimized with respect to your use experience. You can either connect iVacy VPN on your Windows device instantly with just the click of a button or select your usage preference and connect to the optimized servers accordingly. Also, iVacy VPN app allows you to connect to a specific server or region of your choice.
While testing the app we could not find any bugs in the user interface or issue so far. The connection established on our Windows device was stable and we did not experience and abrupt disconnections during our sessions. iVacy's app for Windows is user optimized and easy to use. You need not be tech savvy to use the app to its fullest.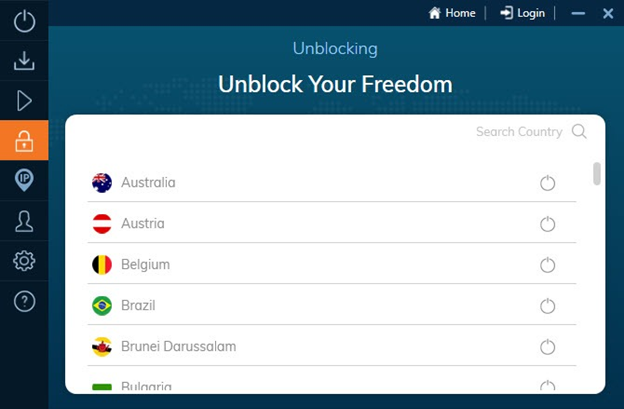 Ivacy for Android Review
iVacy VPN for Android can be setup either manually or used via their app. To configure iVacy VPN manually for Android you can visit their website for step by step guide. Though, we would recommend using their app instead.
iVacy VPN app for Android is available on Google PlayStore. The app has positive user reviews and a rating of 4.2 on the store which is not bad to be honest. Usually people prefer apps above 4.5 rating but we believe that an app with 4+ rating is definitely worth a shot.
The amazing thing about iVacy's VPN for Android is that it offers you 7 days free trial irrespective of your package plan preference. This is an amazing deal and not every VPN service provider in VPN industry offers such privileges.
iVacy's VPN app for Android has a simple and very clean user interface. Most of the VPN apps we come across have their features and options jumbled up which makes the app look crowded. This ends up confusing the users rather than contributing to the user friendliness. iVacy's VPN app for Android has a minimal design with all features clearly presented. The app allows you to instantly secure your Android device via iVacy by tapping 'Smart Connect' which quickly establishes a VPN connection without any nitty-gritty.
The app also allows you to connect to your preferred locations – facilitating your access to geo restricted content and allowing you to unblock services such as Netflix, Hulu, HBO, BBC, Amazon Prime, iTV and many more. iVacy's VPN app for Android is also optimized with respect to use cases such as streaming, secure downloading and unblocking. Overall, the app is very clean, efficient, user friendly and not glitch at all. So, if you are and Android users looking for an affordable VPN service, we highly recommend iVacy VPN for you.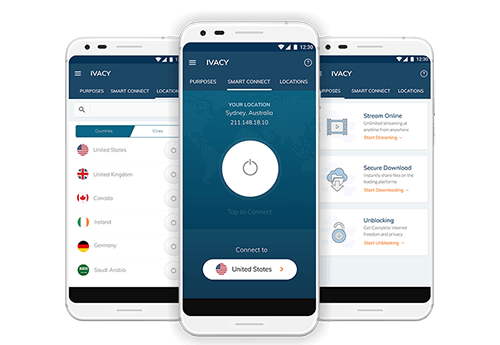 Ivacy for Router Review
iVacy not only supports standalone devices, it can also be configured on routers to secure your internet connection in general. All you need is a working internet connection, iVacy VPN subscription and a router that supports PPTP tunneling protocol.
iVacy provides a detailed tutorial on their website which has simple and easy to follow steps for configuring iVacy VPN on your router. Further, you can also setup iVacy VPN on your router using their router applet. For this you would need a router that supports PPTP, OpenVPN UDP and OpenVPN TCP protocols.
iVacy's manual VPN configuration via router applet allows you to connect to OpenVPN tunneling protocols along with standard PPTP tunneling protocol. With the security options iVacy has to offer, we definitely recommend the VPN service provider for all router users out there.
Wrap Up
After analyzing all the facts, feature testing and our review of the brand's privacy policy, our overall verdict about iVacy VPN is positive. iVacy is one of the most affordable VPNs in the industry right now with prices as low as $2 per month. Considering the features iVacy offers, we say it is definitely an amazing deal. iVacy, despite being easy on your wallet, does not compromise on your security.
It supports a variety of tunneling protocols such as PPTP, L2TP, SSTP, OpenVPN and IKEv2 just like the premium brands in VPN industry and offers 256 bit AES encryption. Further, iVacy has a leak protection feature and an internet kill switch to protect you from accidental IP leaks and online security risks. Moreover, iVacy has a strict no logs policy and is based in Singapore. This means iVacy does not fall in the jurisdiction of 14 Eyes of Surveillance.
iVacy is compatible with a variety of devices and operating systems like Windows, MacOS, Android, iOS, RaspberryPi, xBox, PS4, Routers, Kodi, SmartTV and many more. iVacy gives you multi login functionality through which you can connect up to 5 preferred devices via a single VPN subscription. Further, iVacy is an excellent choice for all the binge watchers out there as it successfully unblocks popular VODs such as Netflix, Hulu, HBO, Amazon Prime, BBC iPlayer, iTV, CW and so on.
Unfortunately, iVacy does not have a mammoth server network unlike a few VPN service providers out there. It has comparatively smaller server network comprising 1000+ servers installed at 100+ locations. A few of its servers are lagging and affect internet speed tremendously. Though, considering the price point and other features iVacy has to offer, aforesaid issues are not much bothersome. Overall, we highly recommend iVacy if you are looking for an affordable VPN option.

Summary
Reviewer
Review Date
Reviewed Item
Author Rating