ZenMate VPN Prices Review
There are two plans that are currently offered by Zenmate. The two plans differ extremely when it comes to features, VPN protocols and device compatibility. The two plans are namely, Free Plan and the Ultimate Plan.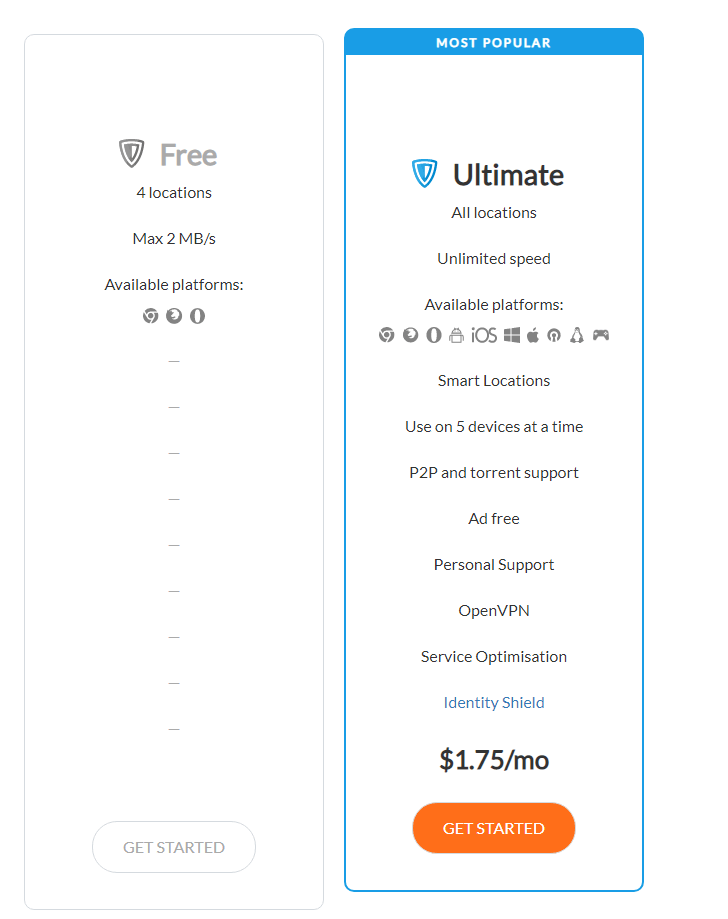 The picture clearly depicts that free plan does not offer much for the users, whereas Premium users can enjoy a lot of features as shown in the picture.
Additionally, they have another pricing plan to compete against others
Also, ZenMate accepts payments via a variety of payment options including Credit Card, PayPal, Giropay, Bitcoin, Union Pay and more. It is quite astonishing that Zenmate accepts payments using both famous and non-famous cryptocurrencies.
Introduction
The service that was started as a free VPN browser extension is now a full fledge VPN service provider. The provider got popular among the users for two major reasons, firstly, simple design and easy to use. Secondly, it was a free for all. The design was very simple and back then it used single click connect feature. It was quite popular among the users who were more inclined towards "getting the job" functionality. To build their customer base, Zenmate VPN adopted the free to premium marketing strategy. The users were given a free plan in the beginning and then asked to opt for the paid plans, which was quite a decent move by the service provider, as this start was quite uncommon back then. The provider was successful in gathering a user base of 40 million, this is what their website says.
The number depicts that Zenmate has gained insane popularity among the audience, this is why they are now a fully become a premium VPN service. Zenmate is not limited to browser extensions only, it has multiple VPN across multiple popular platforms and operating systems. The purpose of the review is to put Zenmate to various tests and check for its efficiency and effectiveness. The effectiveness and efficiency of the VPN will be gauged through of service, speed, server locations, features, security, encryption, functionality and more in our ZenMate VPN review.
ZenMate VPN Review Summary
Our Zenmate VPN review, evaluates that Zenmate has certainly evolved into more than just a web browser extension. But, to ace the VPN industry there is much to be done. We also analyzed various app that Zenmate has for Mac, Windows, and iPhone along with compatibility with other devices via manual configuration. In our Zenmate VPN review we also evaluated its speed, performance, reliability, security and features that service provider offers. There is no doubt that it has evolved into a complete VPN service from a web browser extension, and is certainly on the right growth path, but there is significant room for improvements that are awaited.
Our ZenMate VPN Review Score
Features: 3.4
Apps: 3
Security: 3.2
Speed: 3.25
Overall: 3.21

ZenMate VPN Review in Points
The Good
7-Day free trial of Premium service
14-Days Money Back Guarantee
Torrenting/P2P allowed
5 simultaneous connections
AES encryption
DNS leak protection
Malware blocking
Tracking protection
Ease of Use
The Bad
Average speed or lower at times
Limited servers and locations
Keeps connection logs
Disappointing Customer Support
Nothing ugly enough to mention here
ZenMate's Logging Policy Review
Keeping no logs is like the rule of the thumb in the VPN industry, and is like a necessity for all the players in the market, and Zenmate VPN happens to be abide by it. By the glimpse of their privacy policy, a lay man would comprehend that they don't happen to keep any connections logs. But if you happen to be a little tech geek you would be able to figure out that service keeps connection logs concealed in their complex privacy policy. It is not certain that what the service considers in their connection logs, but they name it as for improving their service and troubleshooting.
The service provider belongs to Berlin, Germany, which is usually considered as a privacy friendly country. But, internet privacy and data disclosure issues pertaining to European Union Commission and European Court of Justice have a significant impact on Zenmate. Similarly, its operation is also hampered by surveillance agency of Germany, which is invasive in nature and works with foreign authorities. Keeping this in mind, the connection logs kept by ZenMate seems troubling for the privacy of its users.
ZenMate VPN Features Review
Zenamate has evolved from a free proxy service browser extension to a full fledge VPN service, and incorporated various new features for users to maintain and protect their digital foot print. Unfortunately, the provider has to work on various aspects to be considered a top tier VPN service. Still, the following features are worth mentioning in our ZenMate VPN review.
P2P and Torrenting Support
The use of VPN for P2P file sharing or torrenting is the most common among other uses a VPN has. People are more concerned about their privacy when they are downloading torrents, to evade DMCA notices and other infringements. The use of VPN also helps in maintaining a decent downloading speed along with anonymity. An ideal VPN for torrenting is the one that offers you good speed and at the same time preserve you anonymity, fortunately Zenmate does support torrenting. It helps users to stay anonymous while downloading torrents, but it does not promise you good down speed.
Ad Blocker
Internet is polluted with ads and pop ups that can ruin your experience, but to tackle this problem and give you a better experience Zenmate comes with a built in ad blocker. This helps you block the unwanted ads which could be related to some product, service or might be a malware that can be disastrous for you. However, this can be only enjoyed buy users that have the premium plans. Unlike many top VPN services which offers ad blocker built-in to apps, ZenMate offer its ads blocker via a browser extension dubbed as ZenMate Web Firewall, which helps in blocking ads and trackers that disrupts user privacy and experience.
Malware blocking
Before we proceed on discussing Malware, it is crucial to know the difference between malware protection and antimalware. Antivirus or antimalware software helps you stay protected from viruses, whereas, malware blocker is a tool that helps you in staying away from sites and codes that could infect your browser. Zenmate offers malware protection via browser extension, which serves as malware blocker. Again this malware will not help you evade viruses, but will surely help you in kissing goodbye to malicious sites and trackers to infect your browser and reach your device or machine.
ZenMate Identity Shield
The identity shield as the name suggest is not any stealth or camouflage option that is an addon that comes in Zenmate's extension or app. Identity shield is like a basic service they offer to their users. Identity shield comes in handy when you data is at the verge of being compromised. For instance, if you happen to use same email address on Zenmate, and the same is being used on any third party website and you are at the brisk of being hacked, Zenmate will notify you so that take precautionary measures.
5 Simultaneous Connections
Zenmate only offers simultaneous connections in its premium plans. Five simultaneous connection means that you can use Zenmate on five different devices using single account. One single premium account can easily take care the needs of personal use, where you can connect five different devices.
ZenMate VPN Protocols Review
The protocols offered by Zenmate are adequate enough to keep you protected. The protocols offered are OpenVPN, SSTP, PPTP, IPSec. Zenmate have proven that holds a strong grounds when it comes to protocols, as it does not only offer multiple protocols but also offers OpenVPN which is the most recommended VPN protocol. However, the availibitly of OpenVPN is on limited to users who are on the ultimate plan that is the most expensive plan of the service provider.

ZenMate VPN Servers & Locations Review
Talking about Zenmate's server and location, it is clear that it not as quite rich as should've been. The provider offers server which is limited to the count or hundred or may be a few more and that too in 30+ countries. But, these 30+ countries comprises of all the major countries in the world, which is quite popular among the VPN users. This gives edge to ZenMate in terms of its limited countries despite having limited servers in limited locations.
The performance and speed of the provider is not too impressive when they were put to test. The connection was seemed to be unstable and unreliable when testes on various servers.
ZenMate is not a rich service provider in terms of servers and has a network of hundreds of servers in more than 30 countries worldwide. However, these 30+ include all the popular countries in the world which most of the VPN users love to connect. The speed of the connection kept on fluctuating and was not stable. The movement was limited to average and poor speed, which is something that a VPN user gets annoyed from.
The first picture shows my connection and speed when the Zenmate was not connected.
This is screenshot after Zenmate was connected.
ZenMate VPN for Mac Review
The major reason that contributed to the success of Zenmate was its simple interface and ease of use. Zenmate VPN for Mac app also got its inspiration from the original app, which makes it extremely simple and easy to use. The design and aesthetics is quite simple, which is why it is quite famous. The highlight is the one-click connect option which makes it quick for the user to connect VPN.
Zenmate VPN for Mac app is friendly for both normal and advanced users. The application provides advanced settings for user who want to tame the VPN their way. When we talk about the performance and reliability of the service and connection via app, it for sure not so impressive. You can only use the Zenmate VPN for Mac app for just getting things done, and is not the ideal option for the users.
ZenMate VPN for iPhone Review
The Zenmate VPN for iPhone app has a simple UI, based on the concept easy to use. The interface of the app works like a charm for iPads and iPhones. The humongous one click connect button enables the user to connect to best server for faster connection saving lots of time, if you happen to be in a rush. This quick connect button is a part of the main screen in the app, and all other settings falls under the button.
The protocols present in the app are limited and the features present in Mac are found absent in Zenmate VPN for iPhones and iPads. The speed and connection via app also not impressive and reliable. So is the case is with its unblocking potential, we would rate it average.
ZenMate VPN for Windows Review
Zenmate VPN for Windows app is the one that we found had most features integrated. Moreover, we did not find anything phenomenal in the app. The app was missing out on ad blocker and other advanced features via separate browser extension.
The performance of the app is somewhat good as compared to on other platforms. The app does not take too much time to load and connect to internet. However, even it does not provide the impressive speed that is mainly because of the overall service and servers rather than the app.
ZenMate VPN for Android Review
ZenMate VPN for Android is really easy to operate with simple interface embedded with quick connect option at home. It is quite similar to all the other counterparts and it also has all the basic VPN features except for the limitation in VPN protocols.
The connection established was not a reliable one, as the speed that we got was poor. The speed kept on fluctuating between poor and average. Our experience while surfing was torment with frequent disconnections, which were least expected of the app. We would suggest that Zenmate is a very basic VPN and would work for users who are new and bear the attitude to get things done for the sake of it.
ZenMate VPN for Router Review
The functionality of Zenmate is limited to few routers only. The service provider does not provide the plug and play feature, the only way you can use it by setting it up manually. The provider does not provide any sort of guide and assistance for users to setup Zenmate on router manually. This means that you are left with no other option but seek guidance from the customer support representative. Unlike other service providers the only point of contact for Zenmate's users is their online support, which again is below average. It was certainly disappointing but it is certain that it does work on routers and users have to setup ZenMate using the manual setup process.
Final Words
To sum up, Zenmate is nothing more than a very basic VPN service. It is highly overpriced as compared to the features that is offering. In order to stay in the game the provider have to reduce it pricing. The reason that Zenmate got famous was due to free browser extension. They happen to have missing protocols and they also have logging policy, which is somewhat questionable. Though they claim that they keep connections logs for improving service, when no other players in the market are doing so. Moreover, they also happen to deliver poor performance and speed with frequent disconnections, this is why we would urge the users to think twice before paying for Zenmate.

Summary
Reviewer
Review Date
Reviewed Item
Author Rating