PureVPN Prices & Packages
PureVPN offers 3 standard package plans: 1 month plan, 1 year plan and 2 years plan. They have only one package plan for short term users and is quite expensive. This is kind of a bummer because if you wish to save some bucks the only way to do so is via subscribing to yearly or 2 years plan.
Cyber Monday Deal
Per Month
$1.32
5 Years Plan
88% OFF - For Limited Time
Get 5 Years Plan
The aforesaid plans could have been justified if PureVPN was marketed as a flagship brand like Express and Nord. The moment you try to exit the site an offer pops up with a countdown. This is a package plan for 5 years which allows users to get PureVPN for price as low as $1.65 per month. It is a desperate move to be honest. And don't mind the countdown because you would still get the offer even if the clock hits zero.
Introduction
VPN has become an absolute necessity of everyday life. In this era where technology has facilitated our way of life, it has also accompanied some threats along the way. A VPN in this regard serves as our ultimate vanguard against online privacy and security threats.
Be it surveillance agencies compromising our privacy or hackers that pose a serious threat to our security, a VPN can be considered as an unbeatable solution to it all. Choosing a VPN can be a bit tedious especially if you are not tech savvy. Since there are a lot of VPN service providers to choose from, it can be hard to go with the features that are best suited for your needs.
To facilitate our readers in this regard, we test out different VPN service providers out there in our review process. We not only put their offered features to a test but also validate their claims of guarding your privacy and security.
PureVPN Review Summary
The VPN service provider that we are going to review today is PureVPN. PureVPN is one of the flagship brands and often considered as an alternative to the big sharks of the VPN industry such as NordVPN and ExpressVPN. With a variety of features at a market competitive price, PureVPN stands strong in the cut throat competition of a saturated industry.
PureVPN is often ranked at the top and recommended by respected names in the VPN industry. Due to its device compatibility, PureVPN is said to be an excellent choice for Windows, Mac OS, Android, iOS and routers. Hence, as the privacy and security enthusiasts at your disposal, we believe that it is high time that we put PureVPN's features and claims to the test via our review process.
There are certain benchmarks that we had set for the VPN service providers in our reviews, PureVPN would be evaluated against the set parameters so we can deduce our recommendation. So, without further ado let us dive in and review PureVPN.
Our PureVPN Review Score:
Features: 4.4
Apps: 4
Security: 4.1
Speed: 4.3
Overall: 4.2
PureVPN Review
Pros
2000+ VPN servers
180+ countries
490+ U.S. Servers
60+ Canada Servers
168+ U.K. Servers
78+ Australia Servers
42+ France Servers
201+ Germany Servers
AES 256 bit encryption
No logs policy
Dedicated streaming servers
Unrestricted access to Netflix and other VoDs
Compatible with variety of devices
PureVPN app for Windows, Mac OS, Android and iOS
PureVPN allows manual configuration for routers
Multi-login support: Up to 5 devices simultaneously
Package plans: Monthly, yearly and 2 years
30 Days money back guarantee
Cons
3 days paid trial for $2.50 (non-refundable)
PureVPN Features
Bypassing Geo Restrictions with PureVPN
While reviewing PureVPN's server network we found that the service provider has more than 490 servers up and running in the United States. This means that despite the country you live in, you can easily mask your real IP with an alternate IP address representing the United States by using PureVPN.
In the world of technology, your IP address serves as your digital footprint. And the content restrictions we spoke of earlier are imposed based on your location and IP address. If you are able to mask your real IP with the one representing the United States, you would easily be able to access content restricted to the United States viewers or readers.
Further, PureVPN has more than 168 servers in the United Kingdom, 60+ servers in Canada, 78+ servers in Australia, 42+ French servers and 201+ servers based in Germany. Most of the aforesaid countries are hub of VOD conglomerates such as Netflix, HBO, Hulu, BBC, Amazon Prime, and so on.
Hence, these servers would allow you to access content restricted to the residents of aforesaid countries. With that said, add in another +1 from our review team for PureVPN.
Review of PureVPN Security Features
In this section of PureVPN review we would dive into the security characteristics representing the VPN service provider. PureVPN markets itself as one of the most secure VPN service providers in the industry and in our review we would put their claims to the test.
HQ Location
Let us review and discuss PureVPN's HQ location first. Jurisdiction laws and regulations in a certain region often bound companies and require certain information to be stored against the users. Same goes for VPN service providers.
If you are an online security enthusiast or an advocate of privacy, the core purpose of using a VPN for you is to protect your identity. Further, security enthusiasts prefer a VPN as it acts as a vanguard against surveillance and information infiltration risks online.
Even the casual users, who just use a VPN for 'Netflix n' Chill', would not want their real IP disclosed as it may lead to their account suspension or inability to access desired content. If you are considerate of aforesaid factors then you must check for a service provider's HQ location before buying a VPN service.
The surveillance practices revealed by the notorious whistleblower 'Edward Snowden' are not confined to the NSA and GCHQ. There are said to be five countries that not only are active in terms of surveillance but also share the collected data among themselves.
Collectively, this alliance is called 'The Five Eyes'. The countries comprising The Five Eyes are: United States, United Kingdom, Canada, New Zealand and Australia. This alliance has put into effect certain regulations that compel VPN service providers to store certain data against their users.
So, it is a crucial part of our review process to check the regulations a service provider is supposed to abide by and same goes for PureVPN. A review of information about PureVPN revealed the service provider is HQed in Hong Kong. As per our knowledge Hong Kong is free from data retention laws and The Five Eyes jurisdiction. This justifies another well-deserved +1 from our review team for PureVPN.
PureVPN's IP Leak Test Review
There are instances when you try to access a site restricted in your country and you are unable to do so even after connecting a VPN. Ever wondered why? This is because the website you are trying to visit can still detect your original IP hence your access is denied. This may often lead to your subscription or account suspension. One of the culprits for this debacle is IP leak.
If you wish to buy a VPN then you must check if it offers leak protection prior purchase. If your IP is not masked even after using a VPN then what is the point of using a VPN in the first place. Fortunately, PureVPN offers leak protection and our review team is here to put their claim to a test.
To perform this leak test our review team used ipleak.org. Once PureVPN was successfully connected, we visited aforesaid site and carried out the test. But, there were occasional losses at time, where we were not bypassed to acces the blocked websites. So, this is one domain where we found PureVPN weak.
Speed Test
A VPN affects your internet connection and its speed. Some VPN service providers even throttle your download and upload speed for reasons known only to them. We believe that a marginal decline in internet speed is acceptable as a price to pay for one's online privacy and security. Though, the effect must not be drastic.
In this section of PureVPN review, we would be testing the effect of PureVPN on our standard VPN connection. To conduct this test we would perform a speed test before and after connecting to PureVPN. Our review team would then be comparing PureVPN's effect on ping, download and upload speed of our internet connection.
The first screenshot given below was taken before connecting PureVPN. The recorded ping was 23 ms, download speed was 21.45 Mbps and upload speed was 27.55 Mbps.
The second screenshot was taken after connecting PureVPN where ping is 25 ms, download speed is 9.42 Mbps and upload speed is 20.74 Mbps.
From the review of screenshots it can be deduced that PureVPN has decreased download speed by half. Upload speed has been marginally affected and reduced from 27.55 Mbps to 20.74 Mbps. And the effect on ping is negligible.
Note that these speed tests have been performed on shared connection. So, if you have a better internet connection than the one at our disposal then the effect on internet connection by PureVPN is bearable.
We have seen speed test results of renowned providers where ping and latency were drastically affected. And by drastic we mean an increase by hundreds along with the significant decrease in upload and download speeds as compared to PureVPN. Overall, our review of PureVPN's speed test is fairly average and something, which is out of this world.
Multi Login
Before buying a VPN, we highly recommend that you check for its multi login feature. Multi login is a feature offered by most of the VPN service providers in the industry. Through this feature you can connect a VPN on different devices simultaneously by using a single subscription.
The number of devices supported by most VPN service providers may vary from 1 to 10. Our review team discovered that using a single PureVPN account, you can connect up to 5 devices simultaneously. Since PureVPN is suitable for Windows, Mac, Android, iOS and routers, you can secure all your preferred devices with only a single subscription.
Knowledge Base: Support Center
In this section of PureVPN review, we would evaluate PureVPN's knowledge base. By knowledgebase we mean any organized form of information available that can efficiently address users' or potential customers' self-sufficient queries.
We know that not all of us are tech savvy and prefer customer support over knowledgebase to resolve the queries and concerns, albeit, there are a few out there who prefer to solve problems on their own. By exploring a service provider's knowledge base we evaluate the guidance made available to such users.
While reviewing PureVPN's website we stumbled upon their support center. PureVPN's support center can also be called their knowledge base however it is much more than that. PureVPN's support center contains a variety of guides and detailed setup tutorials that help you install a VPN on almost any preferred device.
These tutorials help you install PureVPN for Windows, Mac OS, Linux, Android, iOS, Blackberry, Android TV, Amazon Firestick, Smart TV, Routers, Kodi, Qnap, Synology and a variety of Gaming consoles. Further, they also have detailed guides that can be used to unblock Netflix or configure port forwarding.
PureVPN's service center enables you to troubleshoot problems with your VPN connection. Their troubleshooting guides offer possible fixes for Windows, iOS, Android, Mac OS, Linux and Router VPN connections. Possible solutions are provided for errors such as unable to connect, unable to start OpenVPN, IP related bugs, connectivity issues, error 809, 720, 691, 647, 812, Telnet and Dot Ras errors.
Not only this, PureVPN enables its users and potential users to share ideas and give feedback to improve their service. We believe that it is a bold move by PureVPN. In fact, scrolling through the ideas section we actually found a few suggestions that were being reviewed by service provider and others being worked on. This is a win-win in our books and another +1 for PureVPN's review.
Customer Support
After sales service is one of the key ingredients for user retention. It is of utmost significance to users who are a little less tech savvy and need assistance to fix bugs and issues with the service.
To test PureVPN's customer support our review team contacted their customer service representative with a dummy query to assess their knowledge, promptness to response and professionalism. The snapshots given below are of our review team inquiring from PureVPN's support.
From review of our chat session with PureVPN's customer support we can deduce that PureVPN's support is not superfast unlike a few flagship service providers out there such as Nord and Express. Though, their support staff was quite professional and literate in terms of understanding and resolving customer concerns.
They replied to our query in minutes and suggested possible alternative for our problem. Overall, our review of PureVPN's customer support is positive and satisfactory.
Device Compatibility
Device compatibility is one of the key factors to consider before buying a VPN. This is an era of technology and obsolescence is real. The device that you prefer today may be obsolete tomorrow. So, it is better to buy a VPN that is compatible with renowned devices and operating systems.
In this section of PureVPN review, we would be exploring the number of devices and operating systems that PureVPN is compatible with. From our review of PureVPN's website we found that PureVPN is an excellent choice of VPN for PC as it supports Windows and Mac OS. PureVPN has a separate app for Windows and Mac OS which is fair considering the diversity of user preference.
For mobile, PureVPN has Android and iOS app for its users. PureVPN can also be manually configured on all leading routers and is Linux compatible. Further, PureVPN has its very own Chrome and Firefox add-ons for user convenience.
Reviewing the number of devices and operating systems PureVPN is compatible with, it can be said that PureVPN cares about its users' preference and diversity. PureVPN has an easy to use app for Windows, Mac, iOS and Android. With a little help from the tutorials, PureVPN can also be configured on routers making it a suitable choice for users that are a little more sophisticated.
Overall, our review team recommends PureVPN for Windows, Mac, Android, iOS and routers along with other devices such as Linux, Android TV and Firestick.
PureVPN Protocols
If you are concerned about your online security then security protocols offered by a VPN service provider should be the key features to consider prior purchase. When you connect to the internet your device forms an unprotected link with the server. This link carries critical information such as your search queries, login details, websites that you visit, emails, credit card information and so on.
This unencrypted connection makes your crucial information susceptible to diverse risks and online threats. All your online activities, information shared or received can be accessed by the unwanted eyes such as hackers and surveillance agencies. Once your connection is infiltrated, your information can be manipulated and used in unimaginable and unwanted ways.
One possible solution to this problem is security protocols. These protocols transform your information in a sophisticated code which is almost impossible to decrypt. This saves you from all the unwanted eyes and online surveillance. Even if your connection is compromised, the hackers will not be able to make sense of information accessed. This is an ultimate shield for your online security.
PureVPN offers wide range of tunneling protocols to keep your information safe such as OpenVPN, PPTP, L2TP, SSTP and IKEv2. This allows PureVPN's users to benefit from 256 bit military grade encryption – best suited for online security concerns. This unbeatable encryption is more than enough to protect you from online surveillance, hackers and man in the middle attacks. So, another +1 from our review team for PureVPN.
PureVPN Servers & Locations
The first thing that we personally check before subscribing to a VPN service provider is their server network. When you connect to the internet, the connection established between your device and the access point serves as a bridge. These connections are naked because the information security is at its minimal.
However, if you connect a VPN on your preferred device, your connection to a server is rerouted via service provider's server network. This allows you to mask your real IP and protect your identity online. This is your ultimate defense against the surveillance agencies and other digital threats such as cyber stalking and identity theft.
Not only this, a wide spread server network of a VPN service provider allows you to evade content restrictions imposed by different countries. It also helps you bypass the content restrictions imposed by large conglomerates and popular VoDs.
In this section of the review, we would assess PureVPN's server network. PureVPN has 2000+ VPN servers representing a network that is spread in more than 180 countries around the globe. This characteristic alone makes the brand top tier and among the big sharks of the VPN industry. So, that is a +1 for PureVPN from our review team.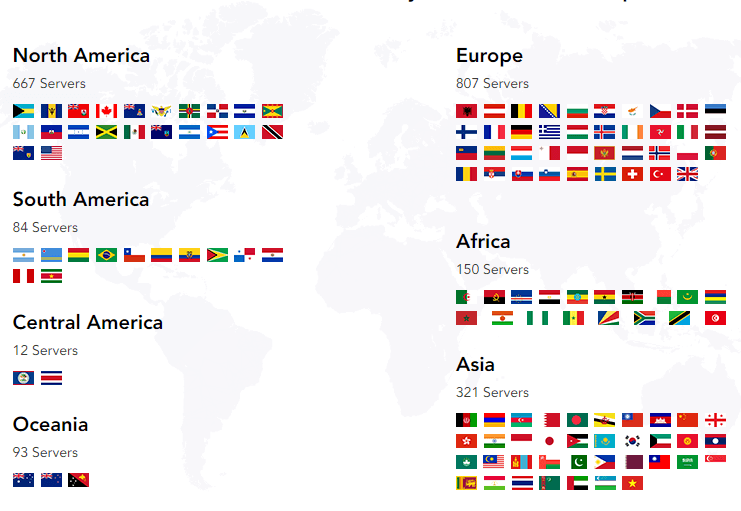 PureVPN for Mac
There have been significant improvements in the Mac app for PureVPN, making it look more stylish and sleek. PureVPN for Mach happens to have different options where you can use to elevate your privacy, enjoy uninterrupted streaming, and unlimited torrenting.
PureVPN for Mac has built in ad blocker, antivirus and IDS to provide a smooth and secured experience for the users.
The app is also integrated with internet kill switch, IPv6 leak protection, DNS and various other protocols for concrete security. Taking about the interface of the app we did not see any flaw as such, but when it comes to performance i.e. speed, and connection reliability we were disappointed. This is the only things that we think needs improvements in the PureVPN for Mac app, rest from the looks of UI and features the app is really good.
PureVPN for iPhone
PureVPN for iPhone and iPad happens to be the best iOS VPN ever, this is claimed in their website, and this is something not coming from us. UI and functionality of the application is quite simple and easy to use. The app not only includes the feature of Smart Connect, which directly connects you to the closest server for fastest connection, but it also provides users with settings that are easy to setup and less hectic.
The app of PureVPN for iPhone happens to be one of the decent app in the market. It is quite simple to use, and also has a decent UI. But, when it comes to performance we regret to inform you that it is flawed. Despite the fact that app offers antivirus, ad blocker and IDS, you are still at the risk of being compromised with its use. That leads us to conclude that it is not one of the best out there.
PureVPN for Windows
PureVPN for Windows like many other VPN services, easily ranks amongst the top providers in the market. The is adequately designed that incorporated decent feature, design and options and is somewhat juicy as compared to its doppelgangers for other platforms. The provider has done a good job when it comes to features and all modes to elevate the experience of the user.
Talking about the performance the app has a comparatively good performance as compared to iOS. If you ask us we would still rate the app somewhere near average. The declined rating is due to occasional packet loss, which happened to be disastrous for your privacy. Moreover, the provider also claims to best when it comes to unblocking US Netflix, but we tried to test their claims and were left disappointed every time.
PureVPN for Android
The PureVPN for Android app has more or less same features as mentioned above for other operating systems. The smart connect feature, which helps you establish an optimized connection depending on your location does not work effectively on the android app.
The performance of the app is still an issue, upon leakage test occasional packet losses were seen, which is definitely a problem for users. If we exclude the aspect from the review, which obviously won't be fair, the app has a decent design and adequate mix of features. But then again, our review is based including the aspects of the app, you can comprise on the design and features of the app, but performance is something that can be ignored.
PureVPN for Router
Covering support for a wide range of routers, PureVPN for routers is extremely handy to use both for private and commercial setup. You can easily set PureVPN on the router of your choice. PureVPN has deigned an applet that makes it easy for users to setup PureVPN of DDWRT routers.
The process is for setting up PureVPN is similar on all brands of router, which includes Asus, TP-Link, Belkin, D-Link, DDWRT, Tomato, Linksys, Pfsense and several others. When we talk about compatibility, the provider is commendable, but on the basis we would rate it unsatisfactory.
Final Words
After reviewing different features offered by PureVPN we strongly recommend this brand if you are looking to buy a VPN service. Incepted by GZ Systems in 2006, PureVPN quickly gained popularity and is now considered an alternative to flagship brands in VPN industry.
At a negligible cost, PureVPN allows its users to access 2000+ VPN servers around the globe. PureVPN's allotted IPs represent 180+ countries which is a blessing for privacy and security enthusiasts. With PureVPN dedicated streaming servers you can easily bypass geographic restrictions and access restricted content such as Netflix, Hulu, HBO, BBC, Amazon Prime, iTV, CW and other popular VODs.
PureVPN is a strong advocate of online security as it offers AES 256 bit military grade encryption to secure your data from hackers and other unwanted eyes. PureVPN is an excellent choice for Windows, Mac OS, Android, iOS, Routers, Gaming Consoles and many other devices due to its amazing device compatibility. Further, you can connect 5 devices simultaneously with a single PureVPN account.
PureVPN's package plans are a bit skewed towards long term users rather than short term. The only short term plan they have is 1 month plan. Other packages include 1 year and 2 years plans. Though, they offer a 30 day money back guarantee which is a sigh of relief. Overall, our review of PureVPN is positive and we definitely recommend you to give it a shot.
Summary
Reviewer
Review Date
Reviewed Item
Author Rating